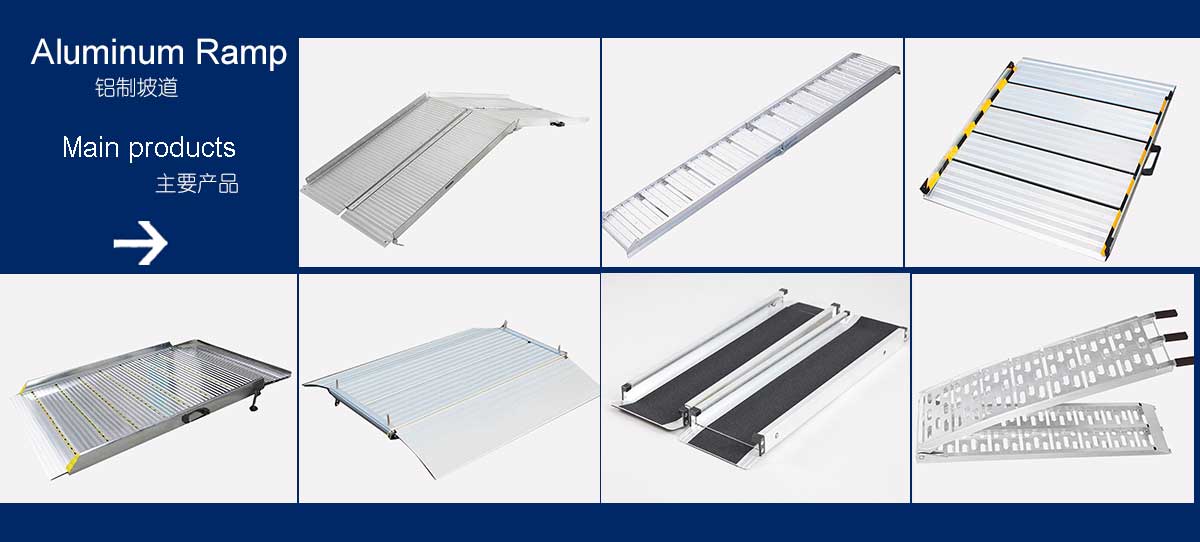 Today I will introduce an aluminum ramp designed for people with reduced mobility. Our engineers design the commercial aluminum ramps in modular, prefabricated ramp sections for fast and simple installation.(Modular Design The commercial ramps are manufactured in a modular design. Each wheelchair ramp comes with ramp sections, platform landings, legs, and handrails. Simply bolt the modular sections together without any on-site welding.)
The portable wheelchair ramp provides convenient movement anywhere in life, your wheelchair or scooter can easily enter and exit vehicles and buildings, and the multi-folding design makes transportation and storage easy.
The ramp was designed with usability and versatility in mind, which is why the ramp has two sides, which can be carried separately and can be made into a complete whole in a short time. To load wheelchairs and other two-wheeled items, simply open each side of the ramp, and then secure the sides with heavy-duty locking pins to create a ramp. For loading items such as bicycles and motorcycles, separate the ramp to use only one side. The ramp can also be used to load pets into your vehicle.
The heavy-duty ramp is made of durable aluminum, which is not only lightweight but also durable. The ramp is equipped with traction pads to prevent slipping; one handle on each side is convenient for transportation; four aluminum locking pins can fix the ramp when folded. The lightweight aluminum ramp allows you to load the vehicle into the trailer. The jagged panel can hold the wheel even in wet conditions.
Why aluminum?Features:
² Quick and easy to set up

² Lightweight, aerospace design
² Folding and telescopic features
² Suitable for bridging thresholds with unequal levels on each side
² Rest on connection, to fit just rest on and start loading
² Perfect for kerbs and steps
² Edges on each side of the ramp to prevent accidentally wheeling off
² Max.load weight is 300 kg
² Durable non-slip surface
² The non-folding loading ramp allows you to load heavy vehicles or wheeled equipment into the trailer. Even if the ramp or wheels are wet,thejagged wheels can grip the wheels.
² Our aluminum wheelchair ramps will never rust, warp, or rot, so they are low maintenance and will last much longer than wood or steel.
We can offer:
1,Folding Channel Ramps
2,Motorcycle Ramps
3,Mobile Ramps
4,General purpose wheelcair ramps
5,Bridge Threshold Ramps
6,Fixed Panel ramps
7,BI-wheelchair ramps
8,Telescopic Channel Ramps
9,Crossfold Wheelchair Ramps
10,Beach vehicle ramps
Common Applications: